Saffron Milkcap (Lactarius deliciosus)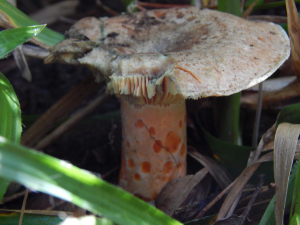 Observation - Saffron Milkcap (Lactarius deliciosus) - Global. Description: Found trooping under pine. Funnel shaped cap when mature, concentric orange zones. Stout robust stem with bright orange pits. Gills orange, bleeding orange milk when cut or damaged - then turning greenish after being exposed to the air over time. Car
Found trooping under pine.
Funnel shaped cap when mature, concentric orange zones.
Stout robust stem with bright orange pits.
Gills orange, bleeding orange milk when cut or damaged - then turning greenish after being exposed to the air over time.
Carrot coloured flesh.
Pleasant aroma.
Pale ochre, ellipsoid spores ornamented with warts and network; 7-8.5 x 6-7 microns.
Main navigation