Aphid - unknown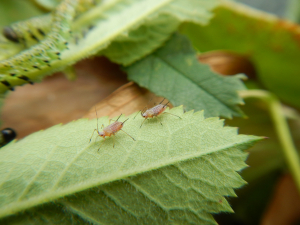 Observation - Aphid - unknown - Global. Description: These tiny creatures were found on the under side of a rose leaf. They are about 3mm long with rear facing antennae and two projections on the side sticking up in the air. The 3rd pic shows shucks of each. We have a lot of Bush-crickets about the garden
These tiny creatures were found on the under side of a rose leaf. They are about 3mm long with rear facing antennae and two projections on the side sticking up in the air.
The 3rd pic shows shucks of each.
We have a lot of Bush-crickets about the garden and these are not dissimilar - any connection?
Any info would be gratefully received.
Main navigation