Mynydd y Gaer 24aug2014 015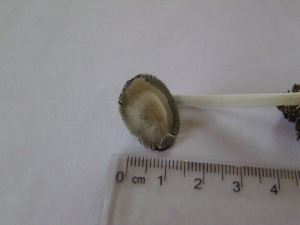 Observation - Mynydd y Gaer 24aug2014 015 - Global. Description: Growing in Sheep dung Unimproved pasture. Initially conical but quickly flattening out with centre slightly raised. Fine white scales/poweder on cap. Margin quickly turn up and very quickly started to deliquesce. Cap 2.2cm. Stem 6cm x 2mm at cap sligh
Growing in Sheep dung Unimproved pasture.
Initially conical but quickly flattening out with centre slightly raised. Fine white scales/poweder on cap.
Margin quickly turn up and very quickly started to deliquesce. Cap 2.2cm.
Stem 6cm x 2mm at cap slightly bulbous at base, white powder
Gills close regular fine black.
Spore print violet black.
Main navigation