False Chanterelle (Hygrophoropsis aurantiaca)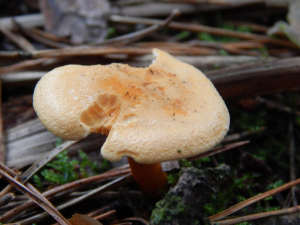 Observation - False Chanterelle (Hygrophoropsis aurantiaca) - Global. Description: Found trooping in coniferous needle litter. Orange cap & stem, decurrent gills. Margin inrolled. When you look at the gills, they are entirely different from Cantharellus cibarius which has not got true gills but folds whereas the False Chanterelle has
Found trooping in coniferous needle litter.
Orange cap & stem, decurrent gills.
Margin inrolled.
When you look at the gills, they are entirely different from Cantharellus cibarius which has not got true gills but folds whereas the False Chanterelle has. The gills of this fungus repeatedly fork multiple times and it is an identifiable characteristic as you can see in the photographs.
Main navigation