Huge caterpillar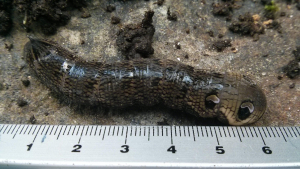 Observation - Huge caterpillar - Global. Description: Large caterpillar approx 60mm in length and 12mm diameter. Found hiding under my beetroot leaves while digging them up. Thought it may have been a cocoon/chrysalis until I noticed it still has legs. It has what looks like a kind of spike on its back at t
Large caterpillar approx 60mm in length and 12mm diameter. Found hiding under my beetroot leaves while digging them up.
Thought it may have been a cocoon/chrysalis until I noticed it still has legs.
It has what looks like a kind of spike on its back at the tail end and an eye type pattern on the back of its head.
Main navigation