Brynna Woods 20 21aug2014 001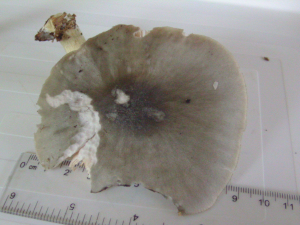 Observation - Brynna Woods 20 21aug2014 001 - Global. Description: Growing on old willow log in damp scrub woodland. Cap 9cm fairly flat with centre slightly raised. Light grey, darker to centre. Gills off white regular fairly open. Stem curved about 8cm x 12mm. Off white to cap pale dirty yellow to base, slightly str
Growing on old willow log in damp scrub woodland.
Cap 9cm fairly flat with centre slightly raised. Light grey, darker to centre.
Gills off white regular fairly open.
Stem curved about 8cm x 12mm. Off white to cap pale dirty yellow to base, slightly striated.
Section flesh off white 2mm, gills to 10mm pale pinkish, no discolouration or 'milk' on bruising/cutting, stem solid.
Very slight mushroom smell.
Spore print dull pinkish.
Main navigation