Birch leaf miner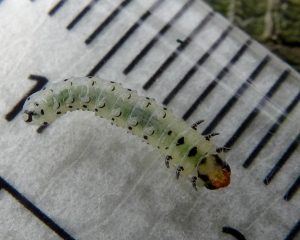 Observation - Birch leaf miner - Global. Description: A leaf miner on birch. Probably Betula pendula, though only 6 years old. Plenty to be found. Typically only at the edge and not reaching the central rib of leaves. Easy to open pouch, always with a single larvae. Feeding appears to be done by grazing th
A leaf miner on birch. Probably Betula pendula, though only 6 years old.
Plenty to be found. Typically only at the edge and not reaching the central rib of leaves. Easy to open pouch, always with a single larvae.
Feeding appears to be done by grazing the underside of the leaf-top, so the larva is found facing up when exposed.
I so want it to be a sawfly but I fear it's a moth - I can feel a cry coming "what's wrong with moths?"
See my comment about the new Display.
Main navigation