Unknown bird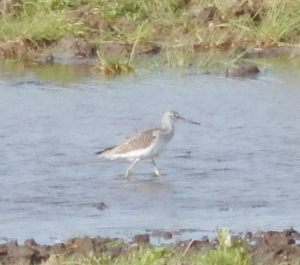 Observation - Unknown bird - Global. Description: Seen dipping and diving in flooded/pond area of grassland (approx 1 mile from estuary. I was wondering whether the smaller bird in some of the images was a younger version or a completely different bird? Sorry the photos aren't very good, they were quit
Seen dipping and diving in flooded/pond area of grassland (approx 1 mile from estuary.
I was wondering whether the smaller bird in some of the images was a younger version or a completely different bird?
Sorry the photos aren't very good, they were quite a distance away.
Any input appreciated - ta.
Main navigation