Alder leaf-blister gall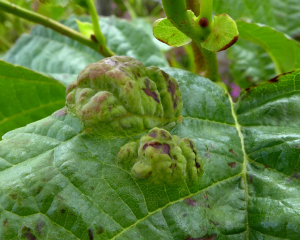 Observation - Alder leaf-blister gall - Global. Description: Many of my Alders (Alnus glutinosa - I have three sorts), this year, have been infected by this Gall
Many of my Alders (Alnus glutinosa - I have three sorts), this year, have been infected by this Gall-inducing fungus.
It seems only to disfigure a few leaves on a few trees, not all.
The patterns, blisters and blemishes take many forms but are not unattractive in their own right. The trees, each year, seem to go on as though nothing has happened. Though a lot of defoliation is done by the sawflies - see
http://www.ispotnature.org/node/392233
.
Once again - it is not recorded in Orkney (where I collected this record)
Picture 4 is a typical underside.
PENCE is 9mm.
Main navigation