Peacock Butterfly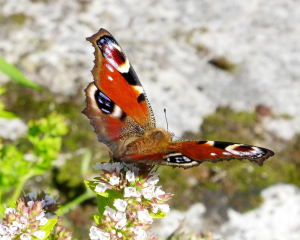 Observation - Peacock Butterfly - Global. Description: There's about 15 Peacock posts over the recent month (so far). Thetford 26th July, South Wales 30th July, The Lakes 6 Aug., Edinburgh 5th. Elgin 8th and mine here, the furthest north yet, 7th August. An incredibly beautiful butterfly, recognised by most
There's about 15 Peacock posts over the recent month (so far). Thetford 26th July, South Wales 30th July, The Lakes 6 Aug., Edinburgh 5th. Elgin 8th and mine here, the furthest north yet, 7th August.
An incredibly beautiful butterfly, recognised by most people.
They are never here in numbers and I have only ever seen two at the same time once, but they reproduce, using my well-nurtured nettle bed. Photographed on Golden Marjoram, a heady perfume for an exotic butterfly.
Main navigation