Crane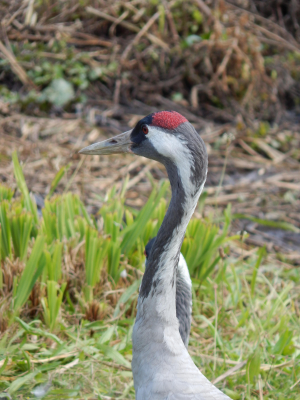 Observation - Crane - Global. Description: Although, seen at a Wetlands Centre - these birds have been wild in some parts of the country for a while now and there is also a relatively new scheme: 'In 2009, the Wildfowl and Wetlands Trust, The RSPB (www.rspb.org.uk)and the Pensthorpe Conservation
Although, seen at a Wetlands Centre - these birds have been wild in some parts of the country for a while now and there is also a relatively new scheme:
'In 2009, the Wildfowl and Wetlands Trust, The RSPB (www.rspb.org.uk)and the Pensthorpe Conservation Trust, with funding from Viridor Credits Environmental Company, began a partnership project which aims to re-establish a breeding population of cranes at a new wetland site in the UK, helping to secure the crane's future as a breeding species. A Rearing facility or "Crane school" was set up at WWT Slimbridge; this consists of a 1-acre (4,000 m2) marsh garden designed to rear crane chicks between 2010 and 2014 in as close to a wild environment as possible. A pre-release enclosure was also constructed on the Somerset Levels. Although the cranes are hand-reared, all humans having contact with the birds wear special grey cover-all smocks, complete with hoods, and feed the cranes using plaster cast crane heads mounted onto litter picker handles. Approximately 20 cranes are reared and released each year. The first cranes were released in 2010 with annual releases planned up until 2014. The cranes are released in Somerset, on the Somerset Levels and Moors, where the project is also working with farmers and landowners to create suitable breeding areas for the birds.'
(I took this info from Wiki but it seems to echo the info from the centre today - hope it's informative).
Main navigation