Yellow sawfly larvae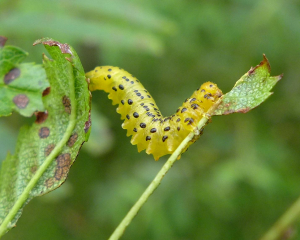 Observation - Yellow sawfly larvae - Global. Description: Absent from Orkney, according to the National Databases. In fact, the nearest record appears to be in North Wales. So, as always, I need support! But have I captured the fly as well? I thought at first it was an ichneumon giving some unwanted attention
Absent from Orkney, according to the National Databases. In fact, the nearest record appears to be in North Wales. So, as always, I need support!
But have I captured the fly as well?
I thought at first it was an ichneumon giving some unwanted attention but I now see it is so like a Tenthredo in structure.
Foliage is all Rowan.
Main navigation