Sisyrinchium bermudiana 1 LN 2014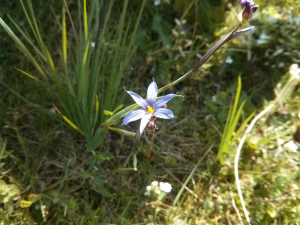 Observation - Sisyrinchium bermudiana 1 LN 2014 - Global. Description: Sisyrinchium bermudiana Flora Europaea and Stace give two species. S.bermidiana stems have two flowers & often a third lower down. S. montanum usually has one flower per stem. You can see more than one fruit per stem in the photo. My id is also based on
Sisyrinchium bermudiana
Flora Europaea and Stace give two species. S.bermidiana stems have two flowers & often a third lower down. S. montanum usually has one flower per stem. You can see more than one fruit per stem in the photo. My id is also based on the location, beside a lake in damp grassland. This is a N. American species recorded by F E as naturalised in France.
The other species, S. montanum var crebrum, is widely naturalised in Europe; its habitat is given as dry grassland & disturbed areas.
Main navigation