Rodent Poo of some sort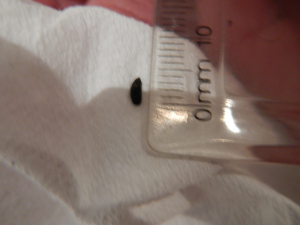 Observation - Rodent Poo of some sort - Global. Description: I KNOW that his will be very hard to ID but I have put together some notes to help with the ID, at least to maybe family. I have put this on iSpot because I first found about twenty of these on the toilet mat in the downstairs bathroom, but about a month
I KNOW that his will be very hard to ID but I have put together some notes to help with the ID, at least to maybe family.
I have put this on iSpot because I first found about twenty of these on the toilet mat in the downstairs bathroom, but about a month later I found the exact same poo in the upstairs bathroom which is directly above.
I have ruled out bats because we don't think we have a place in our house where bats get in and why would they use a carpet in the middle of the bathroom floor instead of around they edges. We do leave the upstairs bathroom door open most of the time but the downstairs one we would leave only slight ajar, not enough room for a bat to get into.
The poo seems to be approx. 4mm, and we were wondering why a rodent would go to all the trouble to poo on the carpet instead of inside their nest or home or on the bare floor.
Main navigation