Brynna Woods 6aug2014 016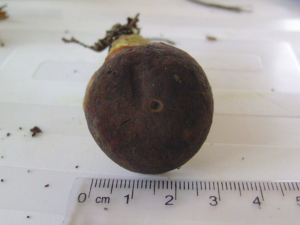 Observation - Brynna Woods 6aug2014 016 - Global. Description: Under Oak and Ash on soil covering old railway line. Cap 3.2cm dark brown smooth slightly velvety. Pores very small irregular elongated lemon yellow. When pulled apart pore tubes remain intact. No immediate colour change on bruising. Stem 4.5cm x 13mm
Under Oak and Ash on soil covering old railway line.
Cap 3.2cm dark brown smooth slightly velvety.
Pores very small irregular elongated lemon yellow. When pulled apart pore tubes remain intact. No immediate colour change on bruising.
Stem 4.5cm x 13mm at top bulbous to base, dirty yellow.
Section maggots to base, flesh to 5mm yellowish, pores to 6mm yellow, stem pinkish red to base. No immediate colour change but slight blueing flesh and stipe after 10minutes.
No apparent smell.
Main navigation