Brynna Woods 6aug2014 012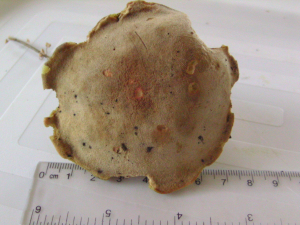 Observation - Brynna Woods 6aug2014 012 - Global. Description: On soil under Oak, Ash, Hazel and Willow. Cap 7cm dull tan smooth slightly velvety. Pores khaki yellow irregular to 3mm. Pores appear to stay intact when pulled apart (?)Looking again at specimen pore tubes do seem to be tearing - last photo added. Ste
On soil under Oak, Ash, Hazel and Willow.
Cap 7cm dull tan smooth slightly velvety.
Pores khaki yellow irregular to 3mm. Pores appear to stay intact when pulled apart (?)Looking again at specimen pore tubes do seem to be tearing - last photo added.
Stem to 4cm x 20mm at cap 15mm at base.Slightly reddish brown streaks particularly to cap.
Section maggot ridden. Flesh dull yellow to 5mm. Pore tubes dirty yellow to 6mm. Slight reddish colour under cuticle and between flesh and pore tubes. No immediate colour change on cutting or bruising. Slight 'greening' of flesh after 30mins. Pores to greenish yellow on bruising after 3-4mins.

No appreciable smell
Main navigation