Brynna Woods 4aug2014 014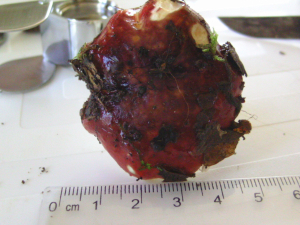 Observation - Brynna Woods 4aug2014 014 - Global. Description: Under Oak. Cap to 5cm wine red slightly sticky, cuticle peeling to 1 quarter. Gills off white close regular and brittle. Clear droplets visible. Stem off white slightly bulbous to base, 3,5cm x 13-17mm, solid. Section flesh off white to 4mm, gills off
Under Oak. Cap to 5cm wine red slightly sticky, cuticle peeling to 1 quarter.
Gills off white close regular and brittle. Clear droplets visible.
Stem off white slightly bulbous to base, 3,5cm x 13-17mm, solid.
Section flesh off white to 4mm, gills off white to 4mm.
No appreciable smell.
Spore print white.
Main navigation