Svalbard - Polar Bears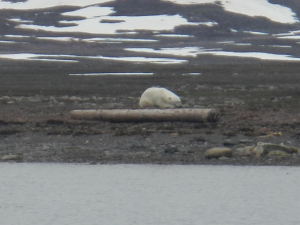 Observation - Svalbard - Polar Bears - Global. Description: We were hoping to see one Polar Bear but instead we saw 13! Photo 1 - This was spotted by another ship while we were out on our zodiacs, it just patrolled the shoreline. Photo 2 - A collared mother and a cub were sleeping on an island next to the island
We were hoping to see one Polar Bear but instead we saw 13!
Photo 1 - This was spotted by another ship while we were out on our zodiacs, it just patrolled the shoreline.
Photo 2 - A collared mother and a cub were sleeping on an island next to the island the bear in photo 1 was patrolling.
Photo 3 - Super Bear!! This Polar Bear had climbed down a cliff and was feeding on Guillemot eggs. It was being mobbed by Glaucous Gulls and he swiped at one and killed it and ate it! No one on board had seen something like it!
Photo 4 - This bear was spotted by a passenger in my zodiac, it soon ran out of land and had to swim.
Main navigation