Bolete Mould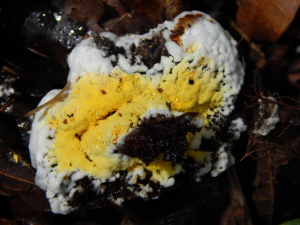 Observation - Bolete Mould - Global. Description: Here you can see what I think is probably a Scleroderma being attacked by Bolete Mould Hypomyces chrysospermus. It has lost its spherical shape but the rudimentary stipe is visible. A few feet along I found another specimen broken apart which showed t
Here you can see what I think is probably a Scleroderma being attacked by Bolete Mould Hypomyces chrysospermus.
It has lost its spherical shape but the rudimentary stipe is visible.
A few feet along I found another specimen broken apart which showed the outer skin and inner gleba more clearly.
Another few feet along I found many small boletes in the same state. (last image)
Scleroderma are boletales so it's reasonable to assume they'll be attacked by the same mould.
Main navigation