Bracket Fungus on old Apple tree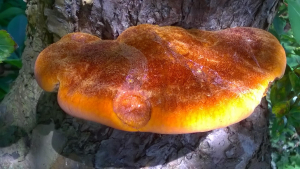 Observation - Bracket Fungus on old Apple tree - Global. Description: 15cm across, 8cm from trunk to widest edge, 5cm deep. Noticed yesterday though I've never seen it in previous years. The apple tree is very old. Being gazed by molluscs, though none seen, there are trails and parts have been eaten. Does anyone know the
15cm across, 8cm from trunk to widest edge, 5cm deep. Noticed yesterday though I've never seen it in previous years. The apple tree is very old.
Being gazed by molluscs, though none seen, there are trails and parts have been eaten.
Does anyone know the species and whether our lovely old tree is on it's way out?
Main navigation