Brynna Woods Scleroderma 31july2014 001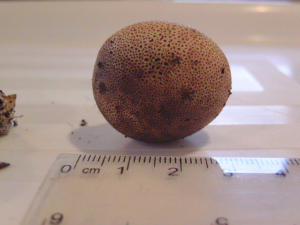 Observation - Brynna Woods Scleroderma 31july2014 001 - Global. Description: On slightly acid soil under Ash, Hazel,Oak. To 3cm diameter flattened 'sphere'. Pseudostipe to 10mm fairly thin. Section dark brown spore mass with less than 1mm peridium (skin) which was 'leathery' to cut. Pseudostipe off white but turning slightly pi
On slightly acid soil under Ash, Hazel,Oak.
To 3cm diameter flattened 'sphere'.
Pseudostipe to 10mm fairly thin.
Section dark brown spore mass with less than 1mm peridium (skin) which was 'leathery' to cut. Pseudostipe off white but turning slightly pinkish after 1-2 minutes then light brownish after 10minutes.
Earthy mushroom smell.
Main navigation