Reversed Clover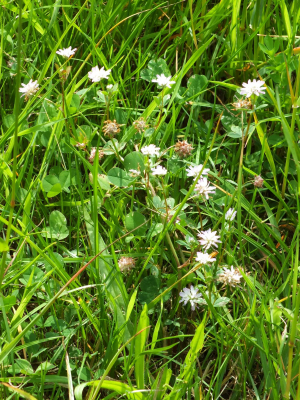 Observation - Reversed Clover - Global. Description: Small flattened heads of pale pink flowers; toothed leaflets. (The flowers are a bit darker than shown; the camera insisted on washing them out.) A few plants growing along the edge of a rye-clover pasture. This was sown recently. (I'd guess last year;
Small flattened heads of pale pink flowers; toothed leaflets. (The flowers are a bit darker than shown; the camera insisted on washing them out.)

A few plants growing along the edge of a rye-clover pasture. This was sown recently. (I'd guess last year; I asked a passing dog-walker, and she confirmed my impression that a cut has already been taken this year.) The pasture consists of Lolium, Trifolium repens and Trifolium pratense. A few Cichorium intybus and Trifolium hybridum were present, but as much in the unsown margin as in the pasture, and presumably predate the sowing. A Lotus is also present in small quantities, as are a few plants of Trifolium incarnatum and Trifolium dubium.

I can't be definite whether this represents a contaminant in the seed mix (and is recordable) or whether it was a deliberate introduction (the species is sold in "wild flower" (amenity plantings) and "nectar and seed" (headland plantings) seed mixes, but I don't think it is used in pasture seed mixes in Britain (as it is in south west Asia).

The low number of plants suggests a contaminant, but if the field was sown last year and cut before it set seed this, an annual, would have been lost.

Specimens at SJ74495582, SJ74525580, SJ74555577 and SJ74565576.
Main navigation