Meadow Brown Butterfly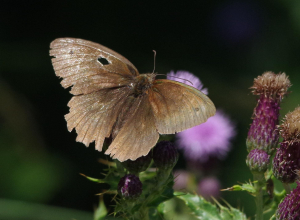 Observation - Meadow Brown Butterfly - Global. Description: Rather tatty specimen with a hole right though wing and raggedy edges Mostly brown upperside - faint hint of orange glow and single eye-spot. Underside - the forewing is a little paler and orange. Brown upper and single eye-spot would make this a male
Rather tatty specimen with a hole right though wing and raggedy edges
Mostly brown upperside - faint hint of orange glow and single eye-spot.
Underside - the forewing is a little paler and orange.
Brown upper and single eye-spot would make this a male if we've got the species correct?
Main navigation