Green Sawfly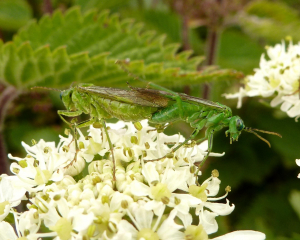 Observation - Green Sawfly - Global. Description: Well, a very green fly (by any standards) which I'm certain is a sawfly. Two shades here and one is female I assume (I'm not certain which). I have checked through all the iSpot's Rhogogaster posts and I'm a little confused. Nevertheless because of the
Well, a very green fly (by any standards) which I'm certain is a sawfly. Two shades here and one is female I assume (I'm not certain which).
I have checked through all the iSpot's Rhogogaster posts and I'm a little confused. Nevertheless because of the absence, it seems, of spots on the abdomen I am thinking Rhogogaster viridis and not R. chlorosoma nor R. punctulata. It's quite difficult for me to be certain of "...the relative length of the pads on the back of the tarsal segments (called pulvilli)" http://www.naturespot.org.uk/species/rhogogaster-viridis
I do hope there enough detail in the pictures.
Main navigation