Spiders in tent in grass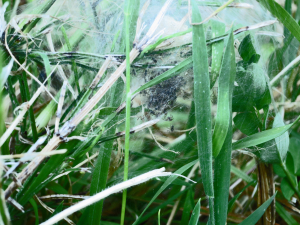 Observation - Spiders in tent in grass - Global. Description: There are lots of gossamer (is that the right word?) tents in the grass, the tops suspended on tall, tough stems, the rest of the tent billowing out around it and fixed in place close to the ground. They are built where the grass is short, coarse and roug
There are lots of gossamer (is that the right word?) tents in the grass, the tops suspended on tall, tough stems, the rest of the tent billowing out around it and fixed in place close to the ground. They are built where the grass is short, coarse and rough on the verge by the hedgerow which was mown by the council.

Inside, there is a cream coloured structure that looks a bit like a miniature wasp's nest. For the last couple of weeks I've been seeing tiny spiders inside. They are growing but still very, very small. They are generally dispersed around the tent but, if disturbed, cluster in a pillar shape.

They are too small to say much about them except they are dark in colour.
Main navigation