Ichneumonid with huge ovipositor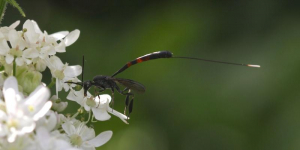 Observation - Ichneumonid with huge ovipositor - Global. Description: Small, thin, black insect apparently waving a huge tail in the air, turned out to be this ichneumon fly with a very long ovipositor like a miniature Rhyssa persuasoria. It held its thin abdomen above the horizontal - sometimes nearly vertical - so it did
Small, thin, black insect apparently waving a huge tail in the air, turned out to be this ichneumon fly with a very long ovipositor like a miniature Rhyssa persuasoria.
It held its thin abdomen above the horizontal - sometimes nearly vertical - so it did look a very long tail!
I know ichneumons are hard, but this is so distinctive, someone may know the species?
Main navigation