Aquatic invertebrate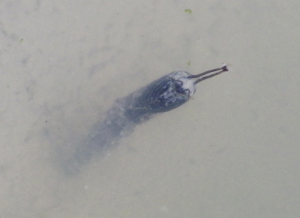 Observation - Aquatic invertebrate - Global. Description: There were a number of these in a long-standing puddle on a clay track. Most were partially buried, but I noticed them because one was wriggling quite noticeably. Really no idea what this is, I'm not even sure which is the head end, whether it's a larva
There were a number of these in a long-standing puddle on a clay track. Most were partially buried, but I noticed them because one was wriggling quite noticeably.
Really no idea what this is, I'm not even sure which is the head end, whether it's a larva or an adult... would really appreciate some help with this!
I have a short video as well.
Main navigation