Male Blackbird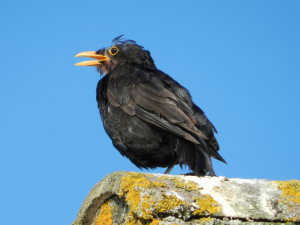 Observation - Male Blackbird - Global. Description: This fella has been around my garden for a few months now, but this is the first decent photograph I've been able to get. I don't know if he has a skin/feather condition, but I have seen him involved in numerous fights, presumably over territory or a fema
This fella has been around my garden for a few months now, but this is the first decent photograph I've been able to get. I don't know if he has a skin/feather condition, but I have seen him involved in numerous fights, presumably over territory or a female.

Maybe that's the cause of his appearance, but I would be interested to know, if you have any ideas. He seems to have feathers missing, a bald patch on his rump and his throat, and a patch of some sort on his forehead.

I would appreciate a reply, even a short one, if you have the time. Thank you.
Main navigation