Bivalve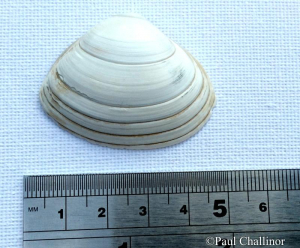 Observation - Bivalve - Global. Description: Found on Tenby South Beach, a long stretch of sandy beach. 5cm in width, white colour inside and outside, though outside probably not a true reflection of colour when alive. Clear lines (growth rings?). Slightly rough to the touch. Not sure at all about
Found on Tenby South Beach, a long stretch of sandy beach.
5cm in width, white colour inside and outside, though outside probably not a true reflection of colour when alive. Clear lines (growth rings?). Slightly rough to the touch.
Not sure at all about this - so all corrections appreciated on my best guess.
It seems to fit the description of Spisula solid, after a pouring over the marlin.co.uk website for the past few days.
Main navigation