Fungus induced nettle gall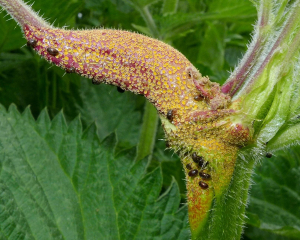 Observation - Fungus induced nettle gall - Global. Description: A Dictionary challenge. See http://www.ispotnature.org/node/241763#comment-59493 I forced the ID to
A Dictionary challenge.
See
http://www.ispotnature.org/node/241763#comment-59493
I forced the ID to accept Puccinia urticata as Get Recommended prefers Puccinia caricina var. caricina.
I am really hoping the 2mm beetles are Brachypterus urticae. Niether are recorded here on National Databases.
EDIT added Strip photo
Later, the spore one - see comment.
Later still. Picture 4. After 28 hours under a glass bell.
After 8 days. Picture 5. Really done. The on-nettle ones have blackened and shrivelled.
Now read
http://www.ispotnature.org/node/417828#comment-171024
Main navigation