Big Sea squirt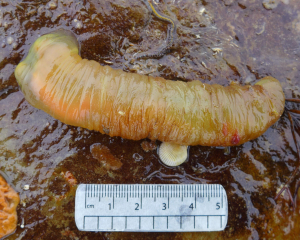 Observation - Big Sea squirt - Global. Description: Tuning over stones on the lower shore usually reveals something mysterious. It did. I made the HUGE mistake of not investigating properly, so am left with only two pictures. http://www.marlin.ac.uk/speciesfullreview.php?speciesID=2991 It became easy
Tuning over stones on the lower shore usually reveals something mysterious. It did.
I made the HUGE mistake of not investigating properly, so am left with only two pictures.

http://www.marlin.ac.uk/speciesfullreview.php?speciesID=2991
It became easy to identify via the above description - near a causeway, with lots of building debris; low wave exposure; orange bars on the body; two siphons, etc.
I stretched it gently by hand to about 220mms extended. Max natural size given in text books is around 150mm.
Main navigation