Unidentified invertebrate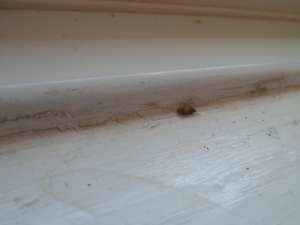 Observation - Unidentified invertebrate - Global. Description: Update: Identified by several people as the larva of the varied carpet beetle. Thanks iSpot! ;) *** Found this little creepy crawly indoors. Any ideas what it could be? The photos aren't great because it was very small, but it looks like it could b
Update: Identified by several people as the larva of the varied carpet beetle. Thanks iSpot! ;)

***

Found this little creepy crawly indoors. Any ideas what it could be?
The photos aren't great because it was very small, but it looks like it could be a larva of something. A beetle perhaps?
It looks like a tiny maggot from afar, but on closer inspection, it appears to have 6 legs (I think) and hairs over its body.
Any ideas??
Main navigation