mystery insect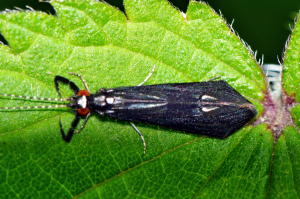 Observation - mystery insect - Global. Description: a very unusual insect about 20mm body length, appears 'stealth bomber black' with normal feelers only 4 normal legs, and what seems to be grasping claws. It flies. very alert and fast . not sure it is a moth !! resting on nettle. poor picture due to w
a very unusual insect about 20mm body length, appears 'stealth bomber black' with normal feelers only 4 normal legs, and what seems to be grasping claws. It flies.
very alert and fast . not sure it is a moth !!
resting on nettle. poor picture due to wind.
I would appreciate an identification if possible.
Main navigation