Green Blob Thing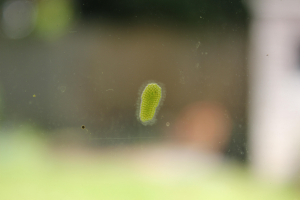 Observation - Green Blob Thing - Global. Description: Noticed a few days ago that we had a strange green blob on the window overlooking our garden. Didn't think much of it as we have birds living in the roof and they often leave deposits on the window as they come in, lightening their load before returning h
Noticed a few days ago that we had a strange green blob on the window overlooking our garden. Didn't think much of it as we have birds living in the roof and they often leave deposits on the window as they come in, lightening their load before returning home.

Went back and had another closer look today and noticed it had lots of small round cell like structures. Intrigued, I've taken a bunch of photos from inside and outside the house, in an attempt to figure out what it is, and if we should be concerned by its presence on our window.

In the later pictures, the grid I have drawn is a half centimetre grid, making the blob roughly half a centimetre wide, by roughly a centimetre long.
Main navigation