Brynna Woods 6june2014 001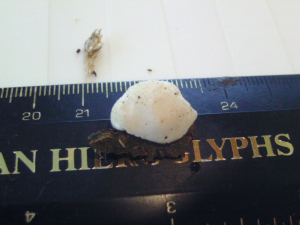 Observation - Brynna Woods 6june2014 001 - Global. Description: On dead hazel or willow. Several individual on log. Off white 16mm x 12mm x 6mm deep. Whole fully attached to log. Fairly firm to touch, smooth. No sign of pores on any surface even under USB x10. Section - easy to cut and moist inside. No sign of pores
On dead hazel or willow. Several individual on log.
Off white 16mm x 12mm x 6mm deep. Whole fully attached to log. Fairly firm to touch, smooth. No sign of pores on any surface even under USB x10.
Section - easy to cut and moist inside. No sign of pores.
Main navigation