Whats this insect in, Ellesmere, Shropshire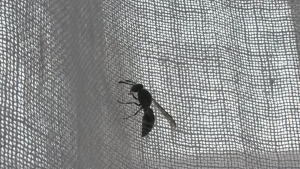 Observation - Whats this insect in, Ellesmere, Shropshire - Global. Description: I noticed this insect crawling up the inside of my net curtains in my living room. I live in Ellesmere in North Shropshire. The picture came out black and white but i can confirm that the thin stripes are yellow. I did some looking on the internet and
I noticed this insect crawling up the inside of my net curtains in my living room. I live in Ellesmere in North Shropshire.

The picture came out black and white but i can confirm that the thin stripes are yellow. I did some looking on the internet and think it is from the species Gymnomerus laevipes, a species of solitary wasp. If this is correct it is rare in my area.

Could you please confirm that this is from this species.
Main navigation