Difficult Sea weed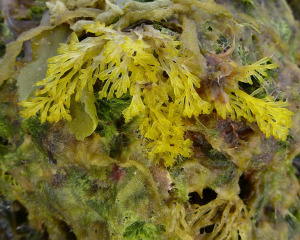 Observation - Difficult Sea weed - Global. Description: Laurencia obtusa A difficult species, cartainly not helped by descriptions and images on the web. Yet, a distinctive anatomy, colour and form. Why then has it been SUCH a difficult seaweed to identify? I've had some help, privately, from another iSpot
Laurencia obtusa
A difficult species, cartainly not helped by descriptions and images on the web.
Yet, a distinctive anatomy, colour and form. Why then has it been SUCH a difficult seaweed to identify?
I've had some help, privately, from another iSpot observer (who often appears here); even so, still not an easy task.

Bright golden yellow - its most distinguishing feature. Pinnate, small, bushy, compact and slightly brittle.
Pictures 1 and 2 show its typical form and colour. Note that picture 3 shows small 'icicles' - there must be a better word to describe drying salt extrusions. But they turned out to be a key feature in my lengthy investigation - segmented hairs being the underlying support for them (Picture 4).
Picture 5 shows orange tips with tetraspore capsules arranged around frond tips.
Picture 6 shows hair, tatraspore at tips and tetraspore dispersed from tips. White line is 1mm.
Partnered with http://www.ispotnature.org/node/420882
See Comment.
EDIT (16/12/2014) retagging only
Main navigation