Aber Craig Woods 1june2014 007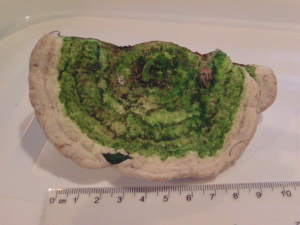 Observation - Aber Craig Woods 1june2014 007 - Global. Description: Numerous brackets on Beech log. This specimen 10cm across but others to 20cm. Upper surface mainly covered in algae but dull cream to margin which is rounded. Concentric rings and undulating. Under surface - pores elongated to 3mm x less than 0.5mm. Sm
Numerous brackets on Beech log. This specimen 10cm across but others to 20cm.
Upper surface mainly covered in algae but dull cream to margin which is rounded. Concentric rings and undulating.
Under surface - pores elongated to 3mm x less than 0.5mm.
Smell mushroomy.
Section - flesh off white to 1.4cm,pores to 8mms long.
Main navigation