Large twig like moth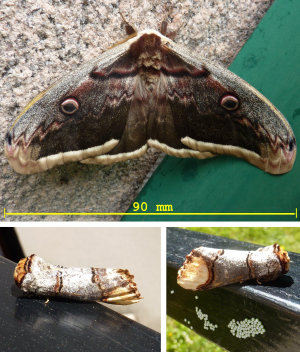 Observation - Large twig like moth - Global. Description: Large brown moth. Both sightings thought to be the same moth. First seen on our railings it looked like a bit of twig and appears to have laid eggs on the railings (eggs in picture on bottom right). Next seen just a couple of metres away on the house wal
Large brown moth. Both sightings thought to be the same moth. First seen on our railings it looked like a bit of twig and appears to have laid eggs on the railings (eggs in picture on bottom right).
Next seen just a couple of metres away on the house wall - this time with its wings open.
Not sure what it is so I need to identify whether it is beneficial or not before the eggs hatch.
Main navigation