Newt - But what sort, Great Crested or Common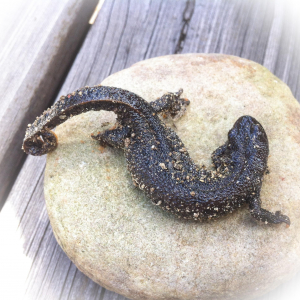 Observation - Newt - But what sort, Great Crested or Common - Global. Description: Clearing flint from my garden to prepare as a lawn I disturbed this little fellow. It was presumably under the flints but when I saw it, it was in the soil. It is a newt and quite small one, possibly young, with a furled end to its tail. So as not to do
Clearing flint from my garden to prepare as a lawn I disturbed this little fellow. It was presumably under the flints but when I saw it, it was in the soil. It is a newt and quite small one, possibly young, with a furled end to its tail. So as not to do any further harm it was moved and photographed then place in a damp overgrown shaded area near a fish pond 15m away.
I now understand that if it is a Great Crested newt I possibly should not have done this.
The question is, after having searched various web pages, what kind of newt is it?
Main navigation