Caterpillar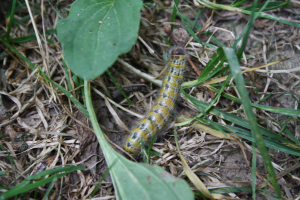 Observation - Caterpillar. Description: Caterpillar about 4-5cm long, silver grey and black with mustard yellow bands. Black eyes with brown between them. Fine grey hairs along sides but not enough to describe it as 'furry'. Seen on 7th August 2013 on the ground on a wooded path adjacent to fa
Caterpillar about 4-5cm long, silver grey and black with mustard yellow bands. Black eyes with brown between them. Fine grey hairs along sides but not enough to describe it as 'furry'.
Seen on 7th August 2013 on the ground on a wooded path adjacent to farmland near Pouance, Brittany, France.
Can anyone help with identification please?