Mistletoe on Pine, Pruhonice Park, Ceska Republica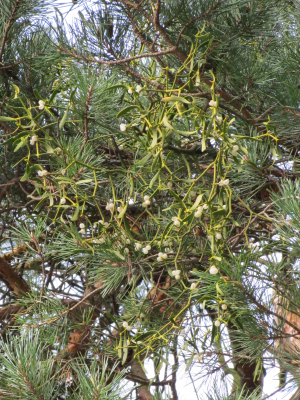 Observation - Mistletoe on Pine, Pruhonice Park, Ceska Republica - Global. Description: I have not seen Mistletoe on Pinus before, but this large Pine in the grounds of the Czech Institute of Botany was covered in Mistletoe. This could be V.album subsp.autriacum which grows on Pinus, but the subspecies can only be distinguished at the seed
I have not seen Mistletoe on Pinus before, but this large Pine in the grounds of the Czech Institute of Botany was covered in Mistletoe.
This could be V.album subsp.autriacum which grows on Pinus, but the subspecies can only be distinguished at the seedling stages, so I'm just going for V. album.
Has been placed in various families,Stace puts it in Santalaceae but also placed in the Loranthaceae
and Viscaceae.
Main navigation