Ink-Caps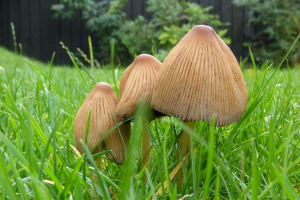 Observation - Ink-Caps - Global. Description: 28 September - Head of largest cap (not fully opened) and spore print measures 40mm by 55mm. Presumably therefore too large for Coprinellus micaceus or Coprinus silvaticus, suggesting Coprinopsis atramentaria? 30 September - added
28 September - Head of largest cap (not fully opened) and spore print measures 40mm by 55mm. Presumably therefore too large for Coprinellus micaceus or Coprinus silvaticus, suggesting Coprinopsis atramentaria?

30 September - added more pictures. The eight pictures (in order) are:

1. Clump of 3 toadstools on 28 September
2. Same with ruler for scale
3. The largest, and rightmost, toadstool's gills
4. Spore print from largest toadstool
5. Remaining 2 toadstools on 30 September
6. New clump of toadstools around 2m away from first
7. Underside of one of new toadstools
8. Cross section of one of new toadstools

The new toadstools look similar to the originals, although none is (at least yet) as large. These new toadstools seem clearly to show the mica-like particles of Coprinellus micaceus.

2 October - the new toadstools are developing exactly like the first clump. The stipes appear pruinose with visible caulocystidia.

I therefore believe that, despite the size of the first toadstools, these are all C. micaceus.
Main navigation