Unidentified creature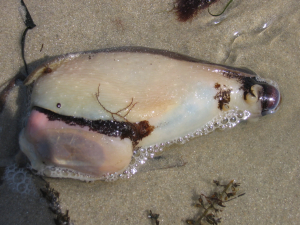 Observation - Unidentified creature - Global. Description: I came across a few of these strange looking things washed onto the shore on a Brittany coastline, back in 2007. I've always wondered what they might be. They are quite large - probably between 8 - 10 inches long, and have semi-transparent skin in some p
I came across a few of these strange looking things washed onto the shore on a Brittany coastline, back in 2007. I've always wondered what they might be.
They are quite large - probably between 8 - 10 inches long, and have semi-transparent skin in some parts. As you can see in the pictures, they have a shiny dark rounded point at one end and are fatter at the other end, with a protruding part. There is a dark textured covering over part of them.
They're very alien looking and were quite disturbing to come across!
Main navigation