Caterpillar of Cucullia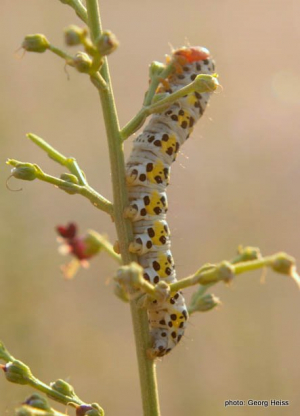 Observation - Caterpillar of Cucullia - Global. Description: Very beautiful caterpillar (about 4cm). They occurred in large numbers, mostly near the ends of flower-bearing branches of the figwort Scrophularia xanthoglossa. The particular pattern of orange and black spots and the red head are very conspicu
Very beautiful caterpillar (about 4cm). They occurred in large numbers, mostly near the ends of flower-bearing branches of the figwort Scrophularia xanthoglossa.
The particular pattern of orange and black spots and the red head are very conspicuous.
Two major characters help to distinguish between Papillio (which I originally thought it was) and Cucullia. 1) Hairs grow only on the body of Cucullia and 2) The head here is one round swollen (red) structure, as opposed to other shapes in Papillio. No red-headed Papillio occur in our region.
Main navigation