Figwort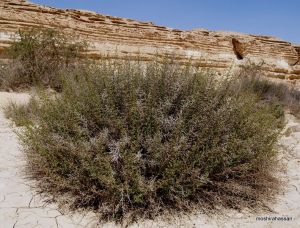 Observation - Figwort - Global. Description: The figwort grows as a shrub, with many erect stems and branches growing directly from the base. The cross section of the stems and branches is squarish. The leaves are mostly arranged at the base, while the erect portions carry the flowers. New stems and
The figwort grows as a shrub, with many erect stems and branches growing directly from the base. The cross section of the stems and branches is squarish. The leaves are mostly arranged at the base, while the erect portions carry the flowers. New stems and leaves start growing late in the year giving an overall green appearance to the plant. The plant looks increasingly gray and brown starting March. This is caused by the ripening of the fruit capsules (grayish) and the drying of the stems. By late summer, the entire plant looks gray. You can see gray and green branches in the same plant in the photos Desert Figwort -1 and -2.
The desert figwort (S. deserti ) also occurs in the region, but has a much more "tangled" appearance.

Figworts are often food plants for the larvae of some species of butterflies and moths (wikipedia.org/wiki/Scrophularia).
Main navigation