15 June 2012 93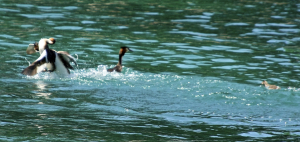 Observation - 15 June 2012 93. Description: I have never seen G C Grebes fighting the way these 2 went at it. One pair plus 1 young grebe were swimming by when 1 single grebe decided to see them off. The pair did their best to escape - and in so doing left their young bird behind. The single bird
I have never seen G C Grebes fighting the way these 2 went at it.
One pair plus 1 young grebe were swimming by when 1 single grebe decided to see them off. The pair did their best to escape - and in so doing left their young bird behind. The single bird then dived and came up between the pair.
One bird - i supposed the female - went back to the young bird and these 2 birds had a fight. The parent won!