South Texas bug - approximately 2 inches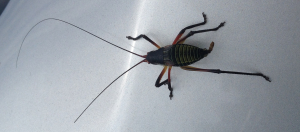 Observation - South Texas bug - approximately 2 inches - Global. Description: This was from early April 2012 near San Antonio, Texas, USA. It stuck to my rear window for a 1/2 hour ride on the freeway. I was parked at church, which is located at the top of a hill in a rural area in South Texas. It's approximately 2 long, not coun
This was from early April 2012 near San Antonio, Texas, USA. It stuck to my rear window for a 1/2 hour ride on the freeway.
I was parked at church, which is located at the top of a hill in a rural area in South Texas. It's approximately 2" long, not counting legs or antennae.
Couldn't find it on any US websites, maybe someone can help identify?
Main navigation