Violet Bee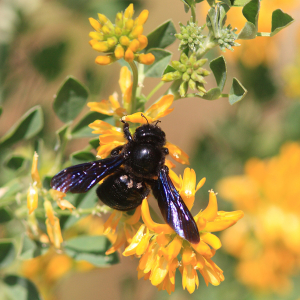 Observation - Violet Bee - Global. Description: At last, a picture of a violet coloured bee actually looking violet - so often the colour disappears because of the light. I'm a little confused by two apparently conflicting statements in Chinery: 1. (Xylocopa violacea) Readily identified
At last, a picture of a violet coloured bee actually looking violet - so often the colour disappears because of the light.

I'm a little confused by two apparently conflicting statements in Chinery:

1. "(Xylocopa violacea) Readily identified by its colour"

and

2. "There are three very similar species in Europe".

?? I'll stick to the genus level.
Main navigation