Act now to help save nature! Report highlights state of UK wildlife
Act now to help save nature! Report highlights state of UK wildlife - Global : [upload-images-State of Nature partners 140.JPG] It's not too late to save UK nature but we must act now - that is the conclusion from a coalition of more than 50 leading wildlife and resea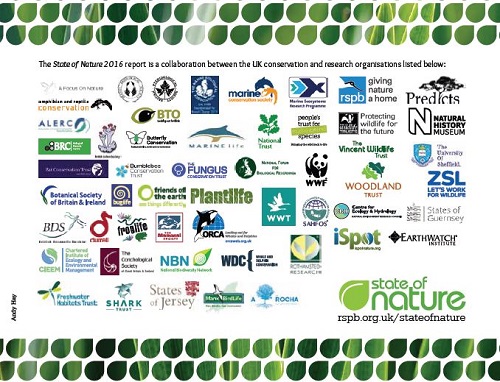 It's not too late to save UK nature but we must act now - that is the conclusion from a coalition of more than 50 leading wildlife and research organisations, including iSpotnature.org, who are behind the State of Nature 2016 report.
The report reveals that over half (56%) of UK species studied have declined since 1970, while more than one in ten (1,199 species) of the nearly 8000 species assessed in the UK are under threat of disappearing from our shores altogether. This review follows on from the 2013 ground breaking State of Nature report and brings together data, expertise and knowledge from 53 wildlife organisations to present the clearest picture to date of the status of our native species across land and sea.

The State of Nature 2016 UK report was launched by Sir David Attenborough and UK conservation and research organisations at the Royal Society in London on Wednesday September 14, 2016 and separate events will be held in Edinburgh, Cardiff and Belfast throughout week.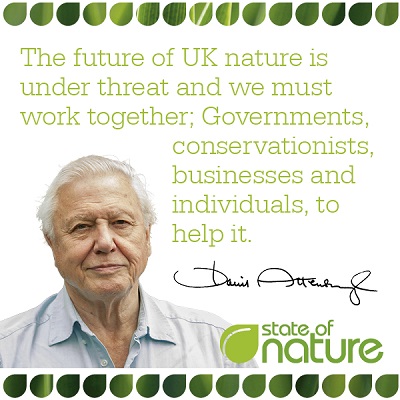 "The natural world is in serious trouble and it needs our help as never before," he said. "The future of nature is under threat and we must work together; Governments, conservationists, businesses and individuals, to help it. Millions of people in the UK care very passionately about nature and the environment and I believe that we can work together to turn around the fortunes of wildlife."

In order to reduce the impact we are having on our wildlife, and to help struggling species, we needed to understand what's causing these declines. Using evidence from the last 50 years, experts have identified that significant and ongoing changes in agricultural practices are having the single biggest impact on nature.

The widespread decline of nature in the UK remains a serious problem to this day. The report reveals that since 2002 more than half (53%) of UK species studied have declined and there is little evidence to suggest that the rate of loss is slowing down.

Mark Eaton, lead author on the report, said: "Never before have we known this much about the state of UK nature and the threats it is facing. Since the 2013, the partnership and many landowners have used this knowledge to underpin some amazing scientific and conservation work. But more is needed to put nature back where it belongs – we must continue to work to help restore our land and sea for wildlife."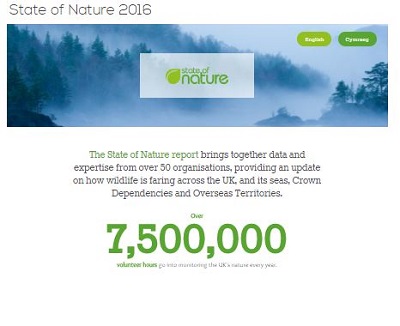 The role of volunteers in the surveying of the UK's wildlife is also highlighted and acknowledged, estimated at 7.5 million hours per year, but more needs to be done and there is a call to action for all to help with tips and opportunities is to do so. From counting with iSpotnature.org; to volunteering and campaigning with a range of partner organisations; to managing spaces for wildlife and living sustainably.

Download a copy of the State of Nature 2016 report and find out how you can do your bit to save UK wildlife.
15 Sep 2016
Janice A
Main navigation